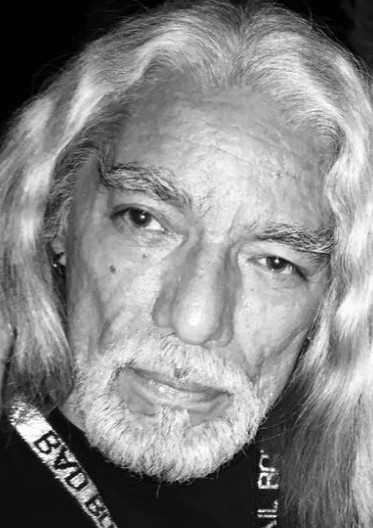 ROBERTO TINOCO DURAN – POETRY VOCALS ON CALOR
Roberto's literature has been published in numerous Periodicals, Literary Journals and Anthologies in the US and abroad. Selected to perform for La Casita at Lincoln Center "Out of Doors New York" along with poets, musicians, and artists from throughout the world. Roberto has performed and recited his poetry for forty years throughout California including venues in New York City. In 1992, Roberto was selected to lecture and perform at Cornell University for a major writers' conference. In September 2000, Roberto was also selected as a participant at the Yerba Buena Gardens in San Francisco CA in association with (AHA) Hispanic Arts in New York.
POETRY BOOKS:
Maximum in Minimum – 2016
Darkspark – 2006
Reality Ribs -1993
Triple Crown -1987
A Friend of Sorrow – 1980 and published by Bilingual Press for Arizona State University, to be used as course curriculum. These poetry books have been used in various high schools, community colleges, and universities in various states. Including the book Literary Reflections – 1998 for the Center for Gifted Education, at the College of William and Mary.
AWARDS:
DragonFly Press – First Recipient for Literary Achievement 1999, San Jose, CA.
El Tecolote – First Place Poetry Competition 1981, San Francisco CA.
MUSIC:
Roberto has produced four music CDs, featuring his signature poetry to lyrics style:
The Poet – 2010
Dark Spark – 2006
Poetry Pie – 2003
Eighty Sixed Again – 2001
Appearances in:
VIDEOS AND FILM:
Filmmaker Emilio Ratti – Milan Italy
Do not Cross the Lines – 1997
3 Strikes You're Out – 1998
Play on Words – 2000
Stars – 2013
El Paletero – 2012
Filmmaker River O'Mahoney Hagg-Short Film
Eighty-Sixed Again – 2002 Premiered at The San Diego Latino Film Festival-2002
Filmmaker Nikolaos OmerosKoumoundouros
Los Trienta Tres y Ella-2013
Premiered at the Syros International Film Festival in Greece, and shown in New York – 2020.
Filmmaker Bill Cozzini
The Jaguar Poet trailer – Cinequest – 2017
Acted in "Bill Rules" Cinequest Film Festival-2018 Film Short
Filmmaker Iggy Skye
Roof Top Poetry – San Francisco CA Film Short-2014
Filmmaker Rafael Flores
Narration Pixan the Ghost of Gongora – 2016
San Francisco – CA
Black and Brown Poetry Series-2018